GC Valves offers different products which are used for various applications and industries such as misting, car wash, water quality, medical, combustion and in many more industries. Many people using their GC Solenoid Valves in their HVAC applications for proper controlling. Are you using these GC Valves and searching for GC Valves Replacement Parts? Don't worry. PartsAPS provides the highest quality GC Valves Repair Parts. Once, look at this below attached content to get an idea about out GC Valves Parts and it's importance.
Before going to the PartsAPS offering parts, we need to check what is the solenoid valve and how it will operate? Solenoid valves are the electrically activated valves which are used to control the direction or flow of air or liquid in fluid power systems. These valves are used in the hydraulic and pneumatic fluid power systems. The solenoid valves which have poppet and spool design makes them perfect for various applications and functions. A solenoid valve is an electric coil with a movable ferromagnetic core in its center. This core is called plunger. The plunger closes off a small orifice when it is in the rest position. An electric current passes through the coil creates magnetic field. This magnetic field exerts a force on the plunger that results the plunger is pulled toward the center of coil so that the orifice opens.
Some examples of the use of solenoid valves are compressed air technology, heating systems, swimming pools, industrial automation, sprinkler systems, dental equipment, washing machines, irrigation systems and car wash systems. The most basic solenoid valves are two-way, two composition and three-way, two composition. In most flow control applications, it is compulsory to stop or start the flow in the circuit to control the fluids or air in the system. These valves can be positioned in the remote locations and conveniently controlled by simple electrical switches.
GC Valves designs and manufactures various high quality valves. There are different types of solenoid valves are available to handle any gas or liquid, from high pressure/ high flow; natural gas to fuel; cryogenics to steam; ultra-pure to corrosive; air and water to enzymes and reagents. Stainless steel and brass body construction as well as many plastic bodies supplied. 1/8 to 2-inch, 3-way and 2-way operation, manifold, in single valve and explosion proof designs available.
Have you been eagerly looking for GC Valves Parts? Now, you reached the correct platform, i.e., PartsAPS for what you exactly required. We have been selling the GC Valves Repair Parts and GC Valves Replacement Parts from many years. And, many customers recognized our quality service. We know that how it is important for you to control the comfort at your home and business place. That's why, we choose to keep loading out inventory with the required HVAC controls and parts from brand manufacturers like GC Valves. We wish you experience a great HVAC Parts shopping with us!
PartsAPS offers a complete line of GC Solenoid Valve Repair Parts, GC Valve Replacement Parts, GC Valve Repair Parts. Below, we have listed out some GC Valve products that are carried by PartsAPS. So, check your needed GC Valve Part and order it on our website by searching the product model number. Through user registration, one can make order easily at partsaps.com
REPAIR KIT FOR 3/4 S211 for GC Valves Part# KS211AF02N5EG5:
GC Valves KS211AF02N5EG5 Repair Kit includes diaphragm assembly, body O-ring, seat disc and operator O-ring. Stock will close soon. Hurry up and place your order at www.partsaps.com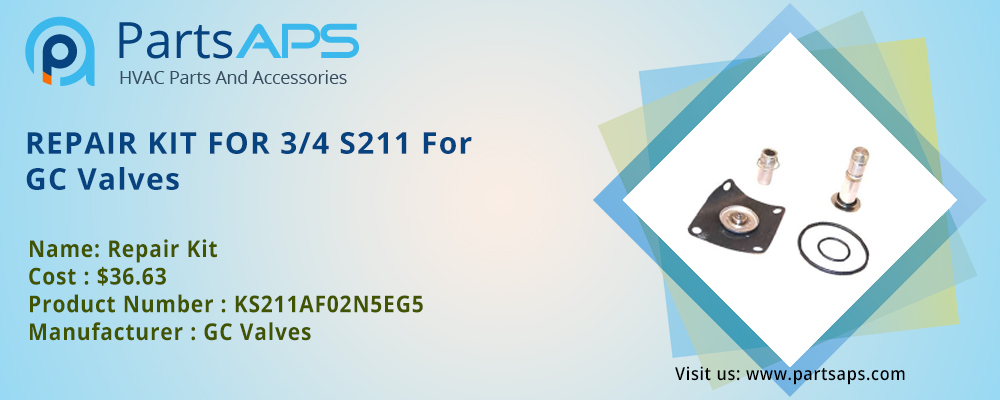 Product Name: GC Valves KS211AF02N5EG5 Repair Kit
Manufacturer: GC Valves
Part Number: KS211AF02N5EG5
Item type: Repair Kit
1/2" Ball Valve for GC Valves Part# B201GF24T7DG1M:
The Ball Valves contain a metal ball with a cylindrical ball. If any external pressure raises, then the hole and ball opens. These ball valves are made of metal, plastic or metal with ceramic. Ball valves have the ability in handling fluids with solids in suspension. We are the leading distributors of Ball Valves. So, you can buy GC Valves B201GF24T7DG1M 1/2" Ball Valve from PartsAPS at low price.
Product Name: GC Valves B201GF24T7DG1M 1/2" Ball Valve
Manufacturer: GC Valves
Part Number: B201GF24T7DG1M
Item type: Ball Valve
120vac HI-TEMP COIL,NEMA4,8wat for GC Valves Part# HS3GN02A24:
Visit our website partsaps.com for buying high quality GC Valves HS3GN02A24 Hs3 N Steam Coil products. We offer the reliable products at reasonable price only.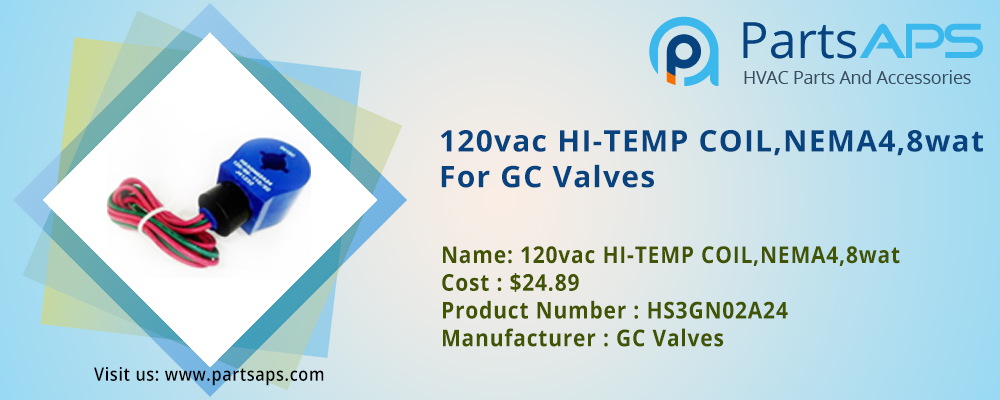 Product Name: GC Valves HS3GN02A24 Hs3 N Steam Coil
Manufacturer: GC Valves
Part Number: HS3GN02A24
Item type: Hi-Temp Coil
1/4"120V 3WAY UNIV 0/25# VALVE for GC Valves Part# S336GF02N4BD5:
GC Valves S336GF02N4BD5 is an S33 series solenoid valve. It has a 1/8" orifice and 1/4" connection. If you want replace your item, then proceed with new VALVES S336GF02N4BD5 Valve. You have to replace it with quality item for long last living. Choose PartsAPS to purchase GC VALVES S336GF02N4BD5 Valve.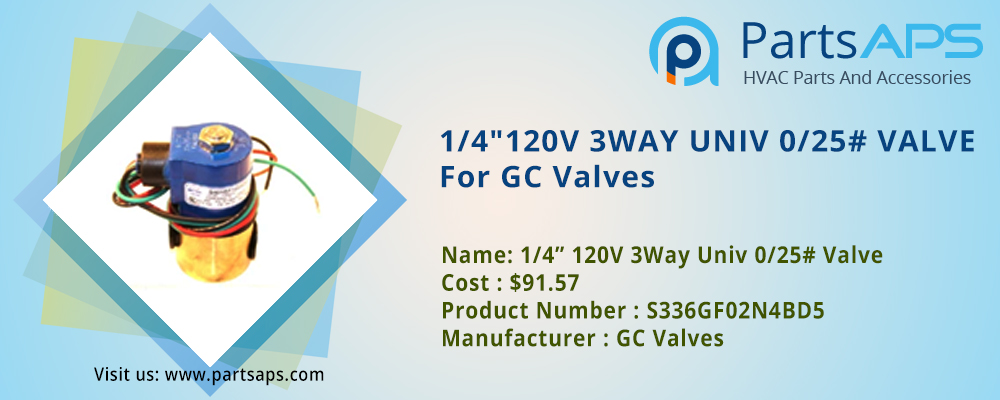 Product Name: GC VALVES S336GF02N4BD5 Valve
Manufacturer: GC Valves
Part Number: S336GF02N4BD5
Item type: 3 Way Univ Valve.