PartsAPS is your trusted source for Henry Refrigeration and Air Conditioning parts. PartsAPS will have the ability to take efficient decisions ensuring a stable and study supply chain with on time shipping. Trust us and shop online by simply registering on the website. Are you bothering about the high cost to purchase Henry Parts? If our guess is correct, then you can prefer the PartsAPS. Here, you can buy Henry Air Conditioning and refrigeration parts at reasonable prices that include Discharge Line Mufflers, Shut Off Valves, Henry Technologies Receivers and many more.
Before going to discuss the products which are manufactured by the Henry Group, let us know the history of Henry Technologies. In the year 1914, Henry Technologies was founded by Henry. It is a leading global manufacturer and supplier of refrigeration and air conditioning products. The fabrication of the products will be in high standards. PartsAPS is one of the distributors of Henry Parts like Discharge Line Mufflers, Henry Technologies Receivers, etc.
Henry Group manufactures Flow Controls, safety devices, fittings, compressor protection devices, pressure vessels, controls & tools, liquid management parts and so on. Henry Parts includes Pressure Relief Valves, Pressure Relief Valves – Transcritical CO2, Rupture Discs, Three Way Dual Shut Off Valves, Pressure Indicator Sentry, Safety Device Kits, Ball Valves, Check Valves, Magnetic Check Valves, Expansion Valves, Flange Unions, Packed Shut Off Valves, Packed Line Valves, Industrial Shut Off Valves, Rotalock Valves, Rotalock Connectors, Capped Line Valves, Service Valves, Solenoid Valves, Solenoid Coils, Reversing Valves, Flow Switches and much more.
Automatic controls which are designed by Henry Technologies having the ability to work without fail and without the need for constant manual monitoring. Henry components reliably control all critical functions based on preset parameters from managing the temperatures in cold rooms and refrigerators to maintain compressor levels. Henry Technologies Flow Controls are designed to be highly efficient by including functionality with a low-pressure drop. These flow controls will satisfy a wide variety of functions like remotely controlling flow direction, isolating the system parts for maintenance.
The main vision of Henry Technologies for making intelligent factory is to have the ability to learn new things from its environment and adjust processes automatically as per the requirement. In the factory, their production lines will identify the inventory replenish requirement, collect the components as needed for manufacturing the product. At PartsAPS, you can buy high-quality Henry Technologies Receivers and Henry Technologies Pressure Relief Valves.
Henry Technologies doing hard work to make their products innovative and work for many years. Henry Discharge Line Mufflers should have the warranty. If you are looking for Henry Technologies Shut Off Valves, then PartsAPS is the right platform. So, spend some of your valuable time here to search for Henry Technologies Receivers.
1) 1 5/8" DISCHARGE LINE MUFFLER for Henry Technologies Part# S-6415:
S-6415 Henry Technologies Mufflers functionally used to reduce the noise in the discharge line of refrigeration and air conditioning system.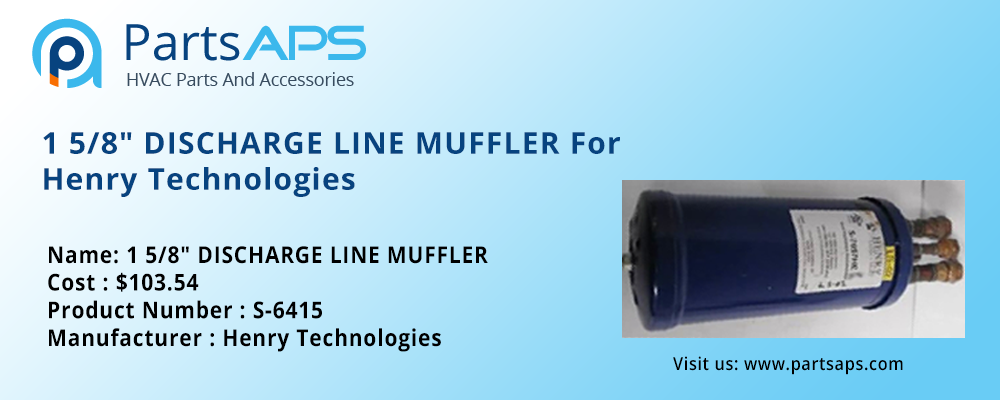 Product Specifications:
Name of the Part: S-6415 Henry Technologies Mufflers
Parts Number: S-6415
Manufacturer: Henry Technologies
Item Type: Discharge Line Mufflers
2) 1/4MPT X 1/4FPT SHUT OFF VALVE for Henry Technologies Part# 7771:
Henry Technologies 777 series Shut-Off Valves work efficiently. No more doubts at all to purchase Shut Off Valves. At PartsAPS, you can buy 777 series Shut-Off Valves. We have fast and hassle-free delivery.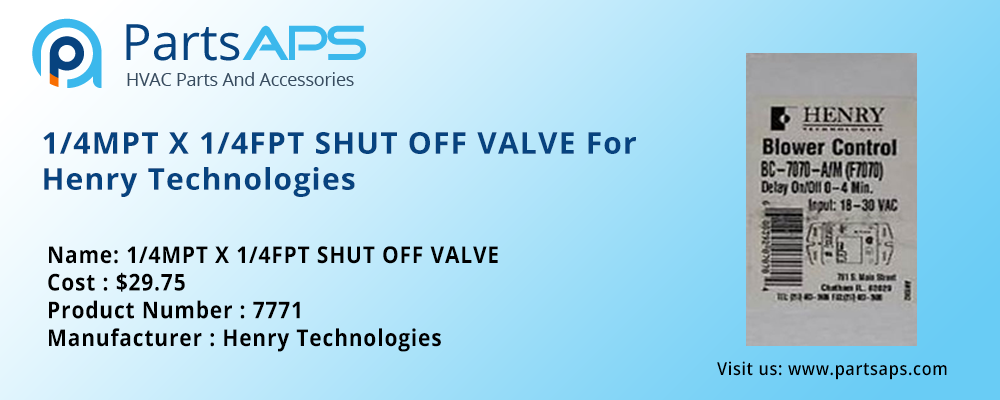 Product Specifications:
Name of the Part: 777 series Shut-Off Valves
Parts Number: 7771
Manufacturer: Henry Technologies
Item Type: SHUT OFF VALVE
3) 3/8"Flr x 1/2"Flr Vertical Receiver for Henry Technologies Part# S-8066:
Henry Technologies manufactures and designs a complete line of both vertical as well as horizontal refrigerant receivers. If you want to make an order of S-8066-Henry Technologies Vertical Mount Receiver, then prefer the PartsAPS website. PartsAPS having great deals and professional customer care support.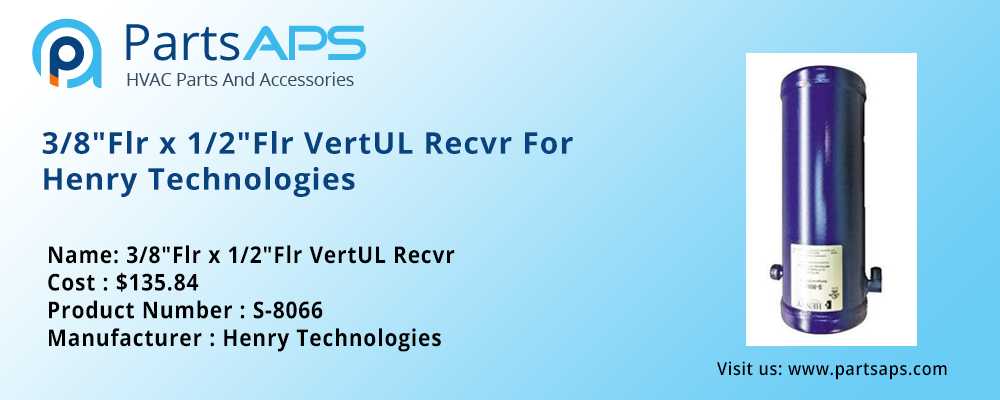 Product Specifications:
Name of the Part: S-8066-Henry Technologies Vertical Mount Receiver
Parts Number: S-8066
Manufacturer: Henry Technologies
Item Type: Receiver